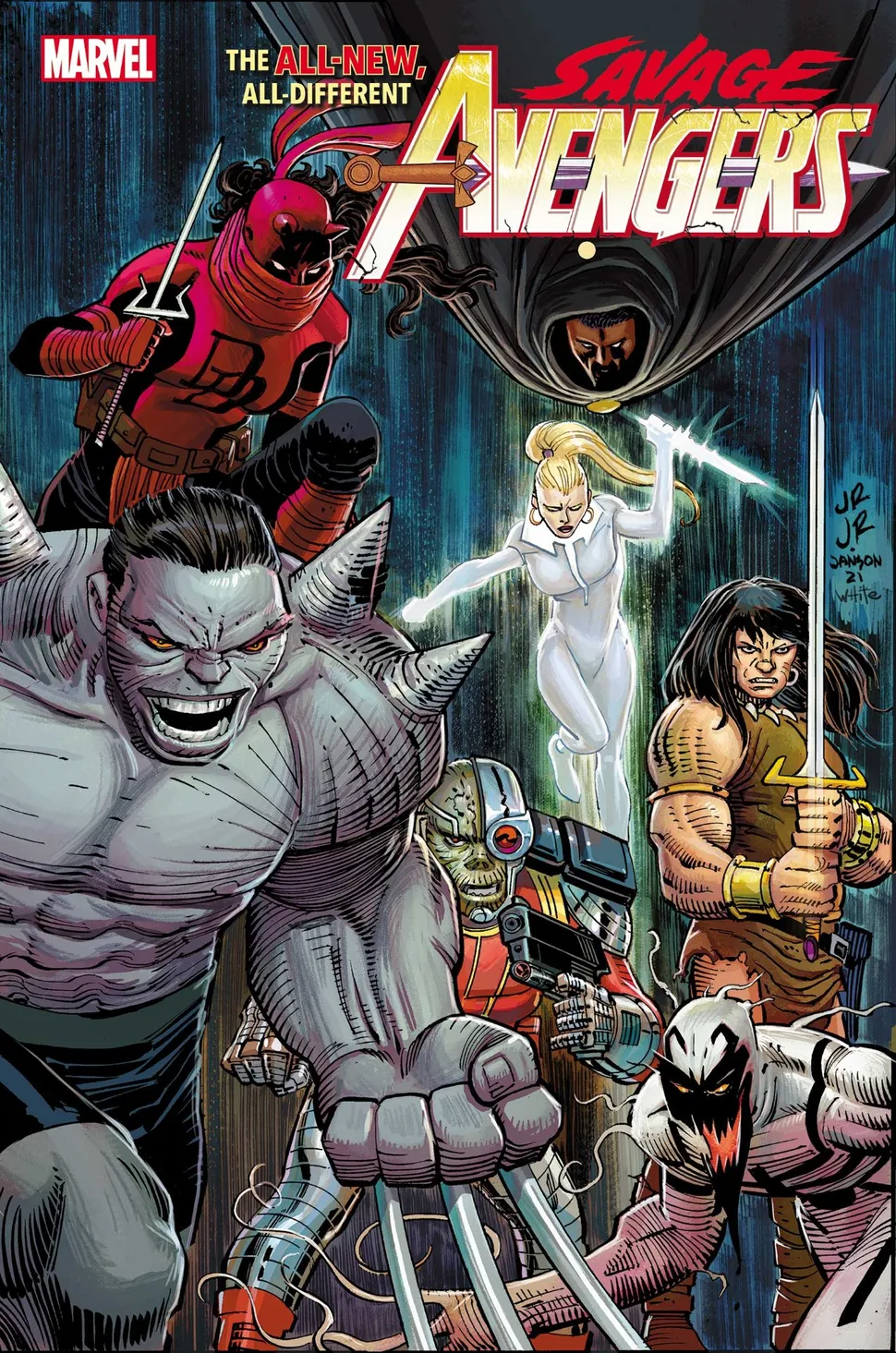 SAVAGE AVENGERS #1
DAVID PEPOSE (W) • CARLOS MAGNO (A) • Cover by LEINIL FRANCIS YU
VARIANT COVER BY KAARE ANDREWS
VARIANT COVER BY JAN BAZALDUA
VARIANT COVER BY JOHN ROMITA JR.
VARIANT COVER BY RAFAEL ALBUQUERQUE
TEASER VARIANT COVER BY GIUSEPPE CAMUNCOLI
HEADSHOT VARIANT COVER BY TODD NAUCK
AN ALL-NEW, ALL-DIFFERENT, ALL-DANGEROUS TEAM ASSEMBLES!
Since his exile from the Hyborian Age, Conan the Barbarian has conquered the most dangerous foes the modern Marvel Universe has to offer — but what happens when this hard-edged Cimmerian finds himself on the run from the cybernetic soldier of the future known as Deathlok? Outgunned and outmatched, Conan must turn to an unlikely group of loners, berserkers and killers if he hopes to survive the night — but can these Savage Avengers defy Deathlok's murderous manhunt, or will they become the next targets in the crosshairs of tomorrow? Don't miss out on a bold new beginning for Marvel's most savage super heroes, as Ringo Award-winning writer David Pepose (Spencer & Locke, Scout's Honor) and superstar artist Carlos Magno (KANG THE CONQUEROR, RoboCop: Dead or Alive) introduce a sensational new lineup that will resonate across every era of the House of Ideas!
32 PGS./Parental Advisory …$3.99
ON SALE 5/4/2022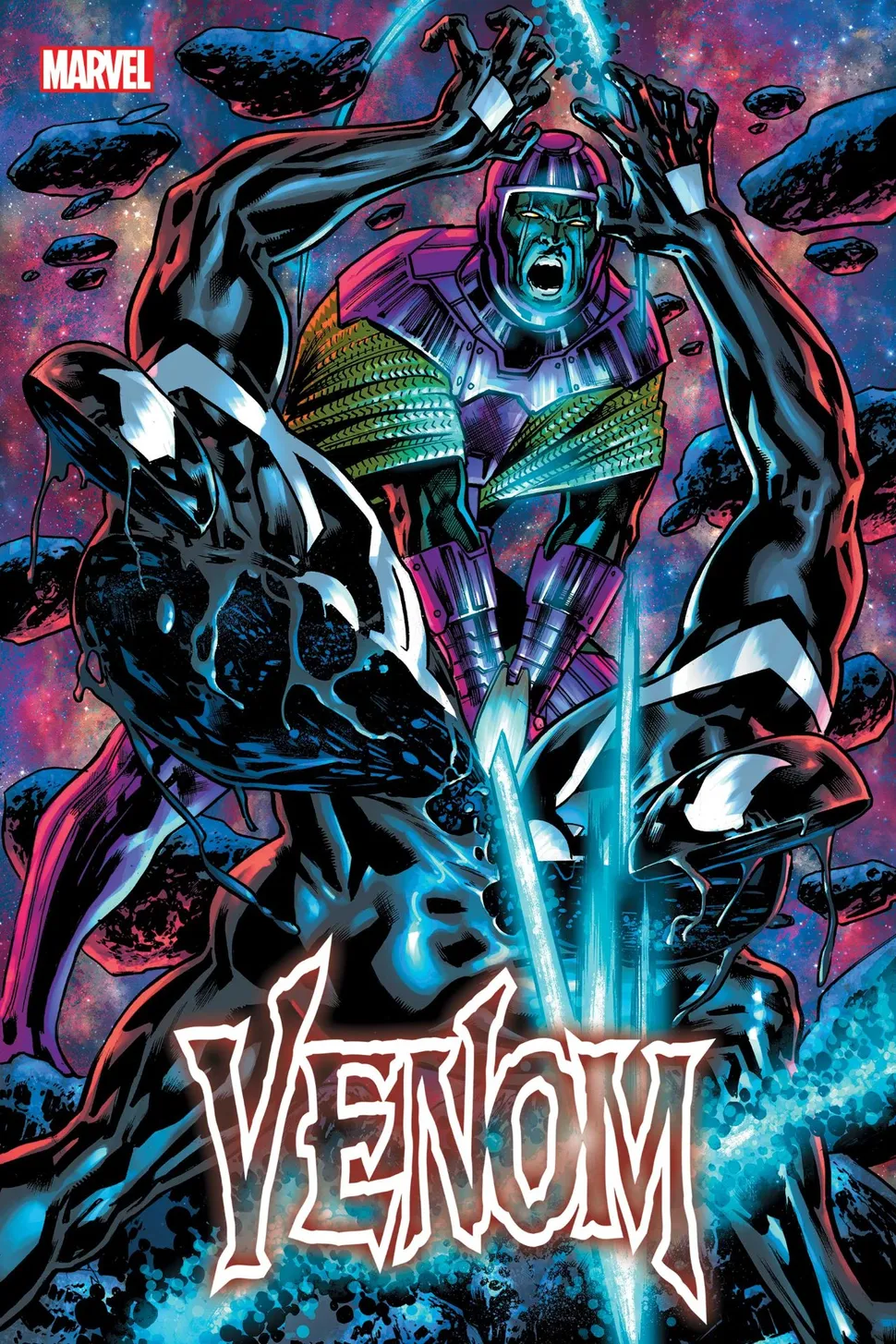 VENOM #8
RAM V (W) • BRYAN HITCH (A/C)
SKRULL VARIANT COVER BY INHYUK LEE • VARIANT COVER BY JONBOY MEYERS
THE MOMENT YOU'VE BEEN WAITING FOR!
You've watched and read in terror for months, as Dylan Brock has fulfilled his destiny and become the new VENOM! But what about his old man? What about the ORIGINAL Venom? WHAT ABOUT EDDIE BROCK?!
Your answers start here, True Believer. If you buy no other issue of VENOM in 2022, YOU MUST BUY THIS ONE! (And the next two, but START WITH THIS ONE!)
32 PGS./Rated T+ …$3.99
ON SALE 5/4/2022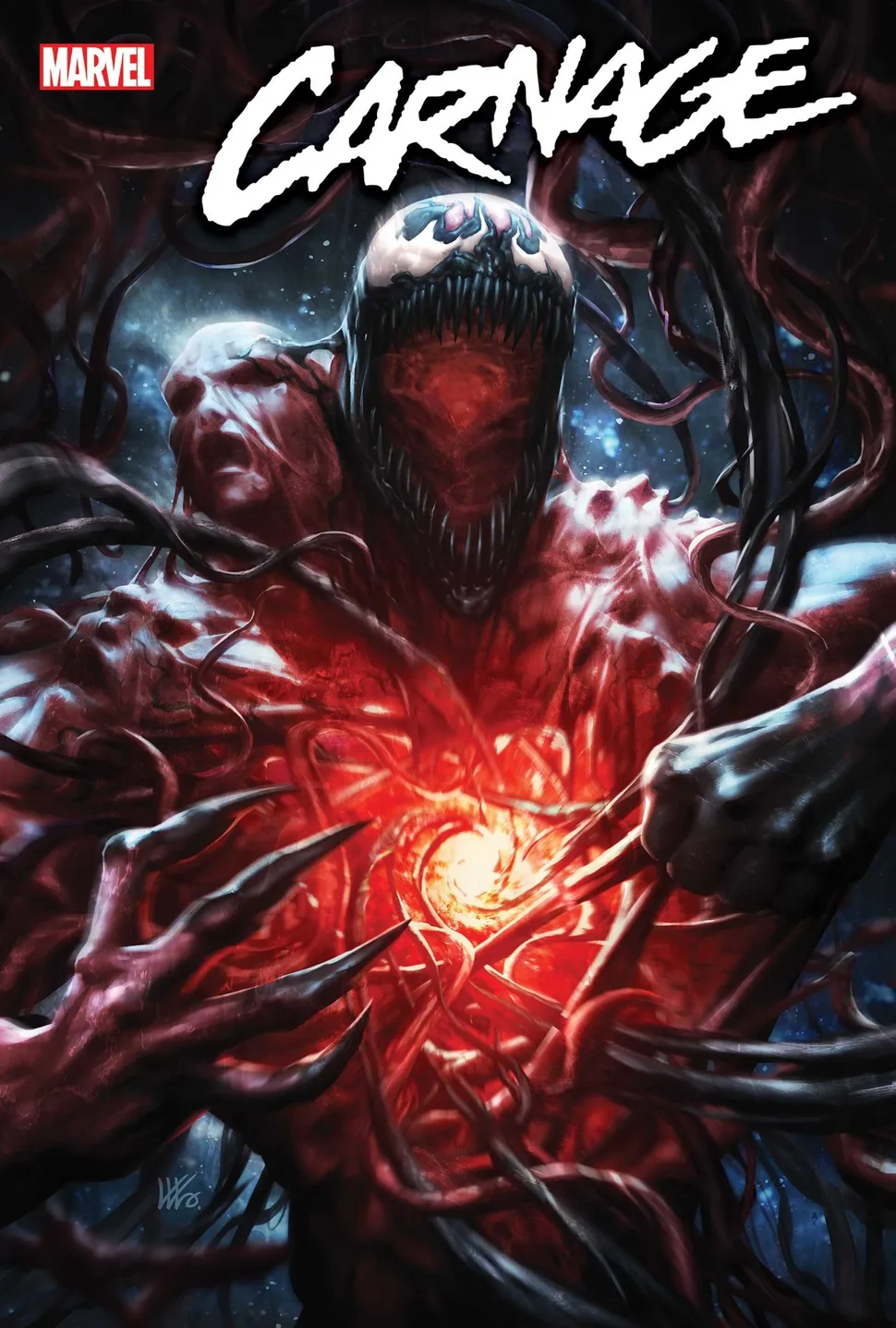 CARNAGE #3
RAM V (W) • FRANCESCO MANNA (A) • Cover by Kendrik "kunkka" Lim
SKRULL VARIANT COVER BY Björn Barends • VARIANT COVER BY RON LIM
Years ago, Peter Parker spurned a puddle of black, extraterrestrial goo and inadvertently created one of the deadliest foes he's ever encountered: VENOM. Years later, Venom's offspring found a willing host in the form of Cletus Kasady, a dangerous serial killer, and together the two formed an even deadlier being called CARNAGE.
But what will become of the Carnage symbiote now, rejected by the only loving host it's ever known? And, like Venom before it, what new and terrifying creature will emerge on the other side?
32 PGS./Rated T+ …$3.99
ON SALE 5/25/2022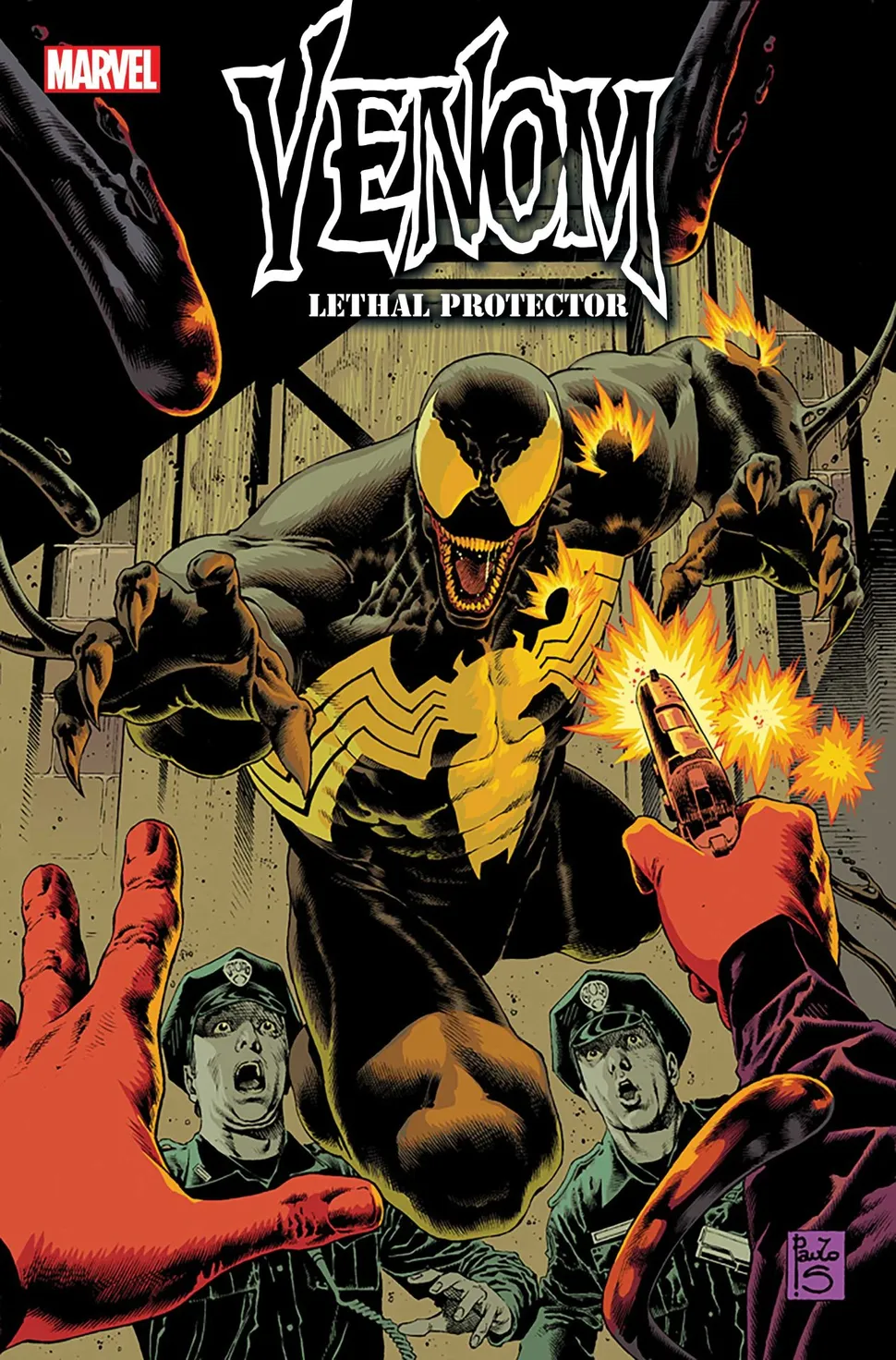 VENOM: LETHAL PROTECTOR #3 (OF 5)
DAVID MICHELINIE (W) • IVAN FIORELLI (A) Cover by Paulo Siqueira
VARIANT COVER BY KYLE HOTZ
DAVID MICHELINIE AND IVAN FIORELLI'S TOUR DE FORCE THROUGH YESTERYEAR CONTINUES!
Brains are back on the menu, as VENOM returns to his violent and spectacular roots in this bone-chilling and bone-crunching issue. BUT MAKE NO MISTAKE, TRUE BELIEVERS! This ain't your parents' Venom, and David Michelinie's return to the symbiote he co-created is about to show why Venom is one of the biggest and baddest characters in the history of the Marvel U — and he just might give the Wicked Web-Slinger a new look and powers while he's at it!
32 PGS./Rated T …$3.99
ON SALE 5/25/2022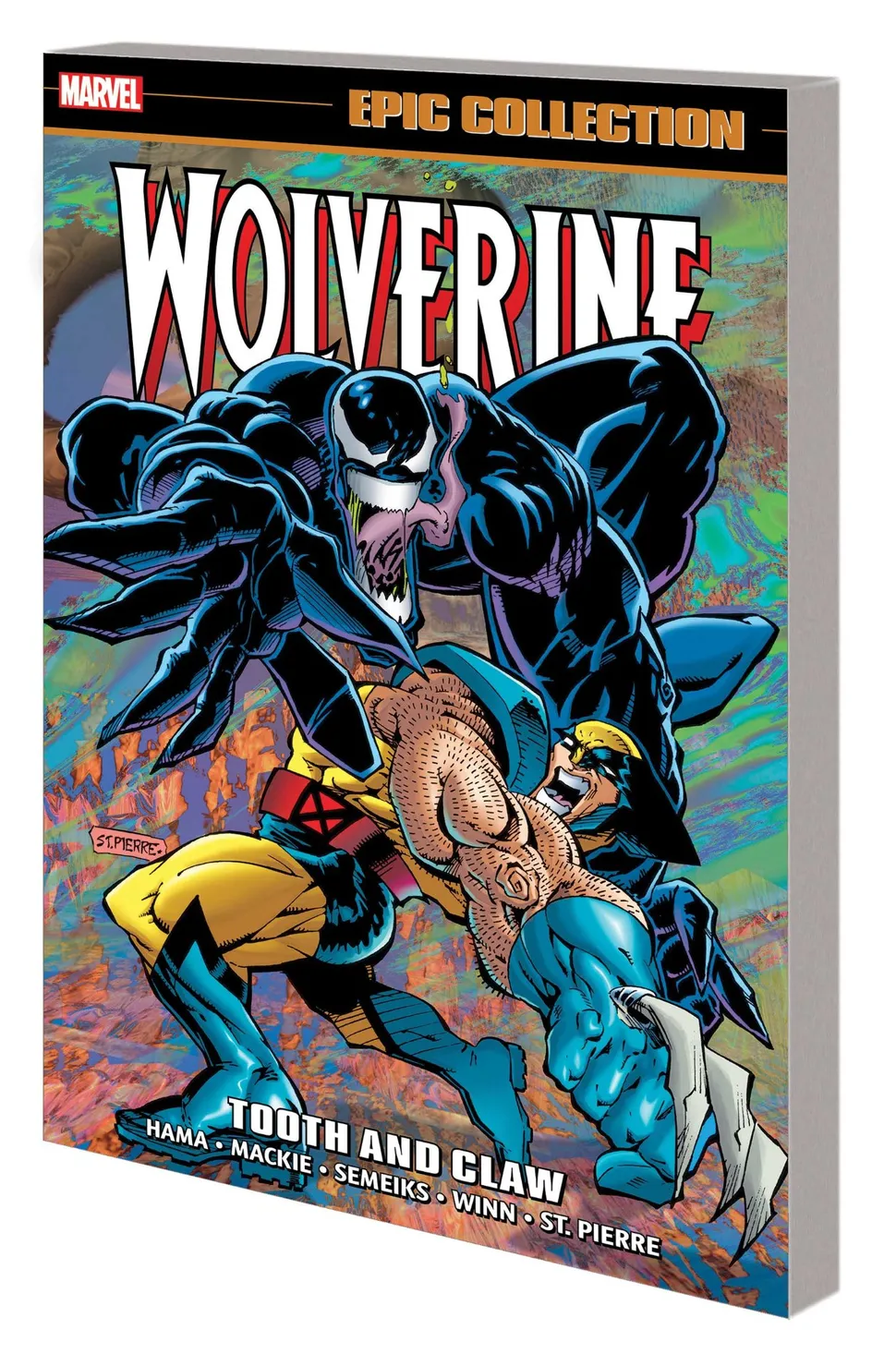 WOLVERINE EPIC COLLECTION: TOOTH AND CLAW TPB
Volume #9 in the Wolverine Epic Collections
Written by LARRY HAMA, JEPH LOEB, RALPH MACCHIO, SCOTT LOBDELL, HOWARD MACKIE, MARK JASON & MORE
Penciled by VAL SEMEIKS, ADAM KUBERT, ANTHONY WINN, ED MCGUINNESS, JOE MADUREIRA, JOE ST. PIERRE, JOHN PAUL LEON, TOMM COKER & MORE
Cover by JOE ST. PIERRE
The animal unleashed! Horribly transformed from a failed attempt to regain his Adamantium, a tormented and animalistic Wolverine teeters on the brink of going completely feral. Can the enigmatic assassin Elektra help him fight his way back from the edge? Mentoring Logan in the martial arts, she challenges him to re-forge his humanity — and he'll need it when Onslaught rips the X-Men apart! Plus: When ninja strike, Yukio and Amiko become targets in Japan! Wolverine teams up with Venom in a wild interdimensional adventure! And look back into Logan's long history, from his post-World War II life in Japan to his days as a spy alongside Carol Danvers! Collecting WOLVERINE (1988) #101-109, #102.5 and ANNUAL '96; UNCANNY X-MEN (1981) #332; VENOM: TOOTH AND CLAW #1-3; LOGAN: PATH OF THE WARLORD and LOGAN: SHADOW SOCIETY.
496 PGS./Rated T+ …$44.99
ISBN: 978-1-302-94650-0
Trim size: 6-5/8 x 10-3/16
ON SALE 6/15/2022