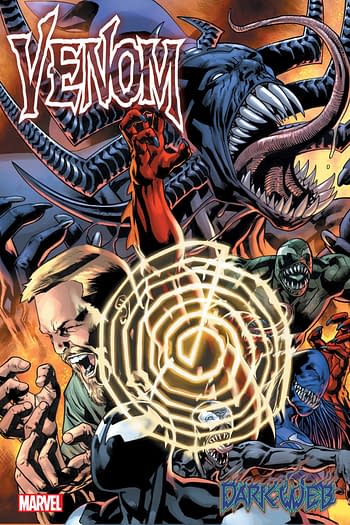 VENOM #13
AL EWING (W) • BRYAN HITCH (A/C) • Variant Cover by BRYAN HITCH
"DARK WEB" PRELUDE!
Forced to watch his son die from across the timestream, Eddie Brock finds himself surrounded by enemies. Alone, and with no one to trust, an unexpected ally lends a hand, and she's setting the stage for the MOST EPIC CROSSOVER OF THE YEAR!
32 PGS./Rated T+ …$3.99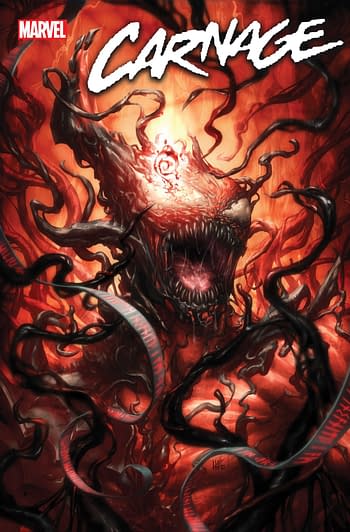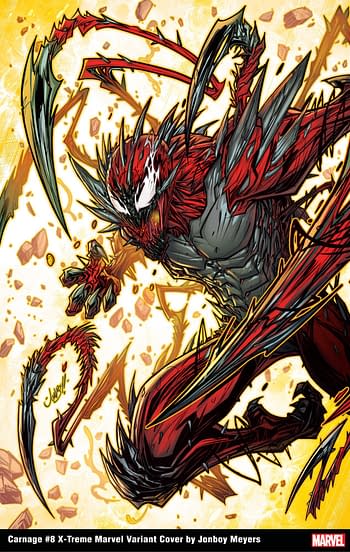 CARNAGE #8
RAM V (W) • ROGÊ ANTÔNIO (A) • Cover by KENDRICK "kunkka" Lim
X-Treme Marvel Variant Cover by JONBOY MEYERS
The Carnage symbiote traveled to Asgardian Hel with a very specific mission on its mind: reaching Malekith the Accursed! BUT TO WHAT END? What could the symbiote be trying to get out of the fallen lord of the Dark Elves? And what hell will be unleashed on the Marvel Universe in this issue once it succeeds?!
32 PGS./Rated T+ …$3.99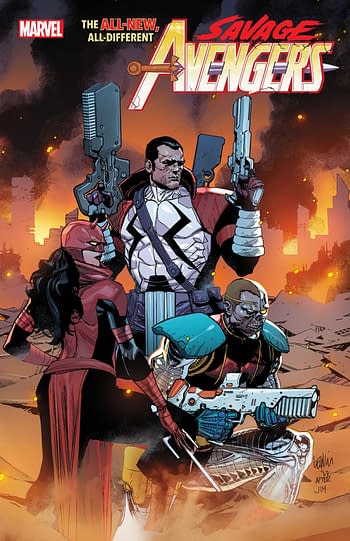 SAVAGE AVENGERS #7
DAVID PEPOSE (W) • CARLOS MAGNO (A)
Cover by LEINIL FRANCIS YU
VARIANT COVER by JAVI FERNÁNDEZ
BEWARE ULTRON 2099!
Trapped in a futuristic war zone ruled by the iron fist of Ultron, Jake Gallows and the Savage Avengers must embark on a high-stakes jailbreak to free the one man who could possibly bring them home. Can our time-lost heroes survive the dangers of this bold new 2099, or will this Deathlok apocalypse prove to be the Savage Avengers' end?
32 PGS./Parental Advisory …$3.99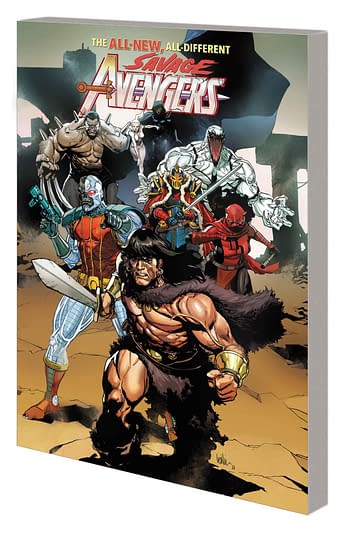 SAVAGE AVENGERS VOL. 1: TIME IS THE SHARPEST EDGE TPB
Written by DAVID PEPOSE
Penciled by CARLOS MAGNO
Cover by LEINIL FRANCIS YU
A bold new beginning for Marvel's most savage super heroes! Since his exile from his own time, Conan the Barbarian has conquered every foe the modern-day Marvel Universe has to offer — but what happens when this hard-edged Cimmerian finds himself targeted by the cybernetic future soldier called Deathlok? Outgunned and outmatched, Conan must turn to an unlikely group of loners, berserkers and killers if he hopes to survive — a sensational new lineup that will resonate across every era of the House of Ideas! But as Deathlok pursues Conan and these new Savage Avengers from the present day back to the Hyborian Age, can anything stop his murderous manhunt? Who is behind Deathlok's assault? And can this hastily assembled team handle the dangers that lurk in every corner of Conan's home era? Collecting SAVAGE AVENGERS (2022) #1-5.
112 PGS./Parental Advisory …$15.99
ISBN: 978-1-302-94538-1
Trim size: 6-5/8 x 10-3/16