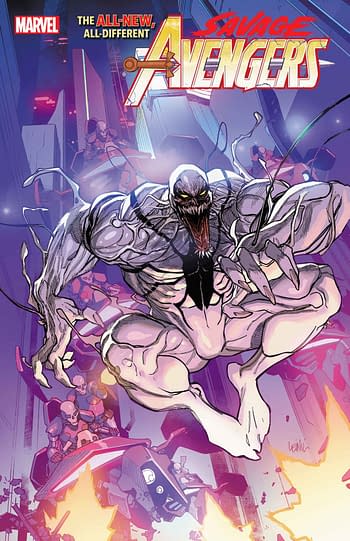 SAVAGE AVENGERS #6
DAVID PEPOSE (W) • CARLOS MAGNO (A) • Cover by LEINIL FRANCIS YU
VARIANT COVER BY ALEX HORLEY • GAMES VARIANT COVER BY NETEASE
ESCAPE FROM NUEVA YORK!
Following their harrowing journey to the Hyborian Age, the Savage Avengers have learned no good deed goes unpunished – not when they're stranded in the Deathlok-ruled dystopia of 2099! As our shell-shocked heroes are swarmed by cybernetic soldiers, will the PUNISHER 2099 prove to be the Savage Avengers' salvation…or their ultimate downfall? Everything changes here in the beginning of this action-packed new storyline!
32 PGS./Parental Advisory …$3.99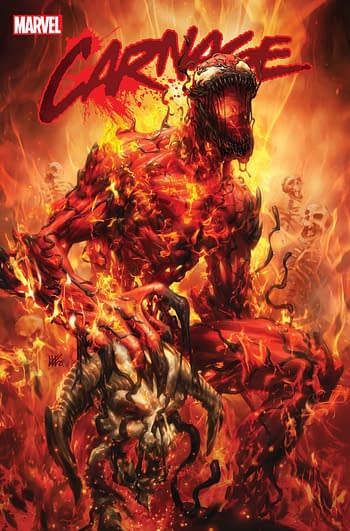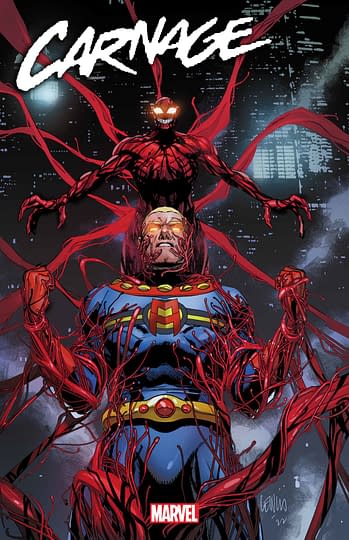 CARNAGE #7
RAM V (W) • ROGÊ ANTÔNIO (A) • Cover by KENDRICK "kunkka" Lim
Miracleman Variant Cover by LEINIL FRANCIS YU • VARIANT COVER BY CARLOS MAGNO
CARNAGE IN HELL – PART II!
With violence and glory on its mind, the Carnage symbiote continues to carve a bloody path through the underworld with the singular goal of reaching MALEKITH THE ACCURSED. But what does Carnage want with the disgraced lord of the Dark Elves, and what does it have to do with Venom and Eddie Brock?
32 PGS./Rated T+ …$3.99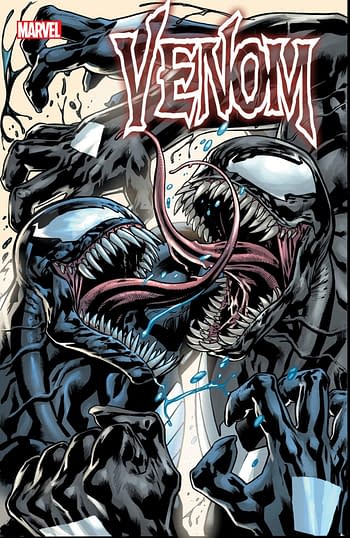 VENOM #12
RAM. V. (W) • BRYAN HITCH (A/C) • Miracleman Variant Cover by RYAN STEGMAN
VARIANT COVER BY RYAN STEGMAN
"VENOMWORLD" Continues!
After the shocking events of VENOM #11, not only is Dylan Brock's physical body in such grave condition that it may never recover, but his codex is as well. After a Hail Mary decision made by the Venom symbiote last issue, Dylan is about to see sides of symbiosis, the Klyntar and perhaps even his father that he has never even imagined!
32 PGS./Rated T+ …$3.99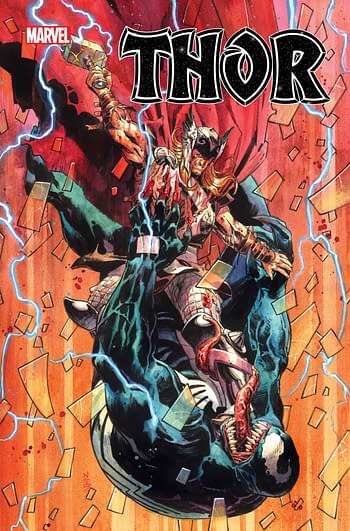 THOR #28
DONNY CATES (W) • SALVADOR LARROCA (A) Cover by NIC KLEIN
BEYOND AMAZING SPIDER-MAN
VARIANT COVER BY GREG SMALLWOOD
THOR VS. VENOM – ROUND TWO!
Hammer vs. tongue! Thunder vs. symbiote! Golden hair vs. pointy teeth! It's the epic finale of this dark, twisted team-up between Thor and Venom! How will events from the current VENOM series impact the future of Asgard? Find out here!
32 PGS./Rated T+ …$3.99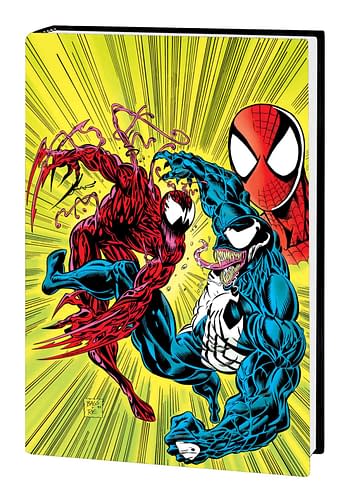 SPIDER-MAN VS VENOM OMNIBUS HC MCFARLANE COVER – NEW PRINTING!
Written by TOM DEFALCO, DAVID MICHELINIE, LOUISE SIMONSON, HOWARD MACKIE, TERRY KAVANAGH,
DANNY FINGEROTH, PETER DAVID & J.M. DEMATTEIS
Penciled by RON FRENZ, TODD MCFARLANE, ERIK LARSEN, MARK BAGLEY, GREG LAROCQUE, ALEX SAVIUK,
RON LIM, MIKE MANLEY, JIM CRAIG, ADAM KUBERT, TOM LYLE, SAL BUSCEMA, AARON LOPRESTI, SAM KIETH & MORE
Covers by TODD MCFARLANE & MARK BAGLEY
Spider-Man meets his deadliest foe as a rivalry for the ages is born! When Spidey's symbiotic alien black costume takes a new host – Eddie Brock, who hates Spider-Man – together, they become the lethal Venom! They'll stop at nothing to take their revenge on Peter Parker – and when Venom sires an even more psychopathic offspring, the result is Maximum Carnage! Plus: The sinister symbiote sinks his teeth into Wolverine, Ghost Rider, Quasar, Darkhawk and the Avengers in this complete compendium of Venom's earliest appearances! Collecting AMAZING SPIDER-MAN (1963) #258, #300, #315-317, #332-333, #346-347, #361-363, #374 and #378-380; WEB OF SPIDER-MAN (1985) #1, #95-96 and #101-103; AVENGERS: DEATHTRAP – THE VAULT; DARKHAWK #13-14; SPIDER-MAN: THE TRIAL OF VENOM; GHOST RIDER/BLAZE: SPIRITS OF VENGEANCE #5-6; SPIDER-MAN (1990) #35-37 and SPECTACULAR SPIDER-MAN (1976) #201-203 – plus material from AMAZING SPIDER-MAN (1963) #373, #375, #388 and ANNUAL #25-26; WEB OF SPIDER-MAN ANNUAL #7-8; SPECTACULAR SPIDER-MAN ANNUAL #12; MARVEL COMICS PRESENTS (1988) #117-122 and SPIDER-MAN UNLIMITED (1993) #1-2 and VENOM SUBPLOT PAGES.
1160 PGS./Rated T …$125.00
ISBN: 978-1-302-94980-8
Trim size: 7-1/4 x 10-7/8
SPIDER-MAN VS VENOM OMNIBUS HC BAGLEY COVER [NEW PRINTING, DM ONLY]
1160 PGS./Rated T …$125.00
ISBN: 978-1-302-94979-2
Trim size: 7-1/4 x 10-7/8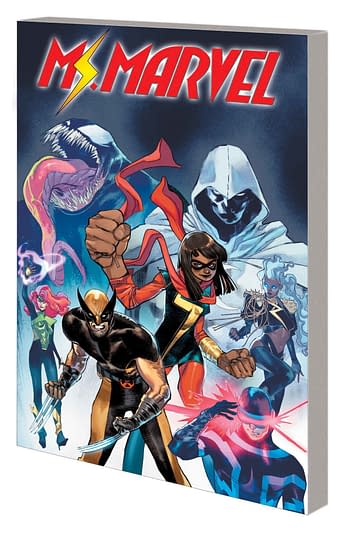 MS. MARVEL: FISTS OF JUSTICE TPB
Written by JODY HOUSER
Penciled by ZÉ CARLOS, IBRAIM ROBERSON & DAVE WACHTER
Cover by SARA PICHELLI
A dire threat. A dangerous mystery. And only the toughest heroes of the Marvel Universe can save the day! Ms. Marvel is taking matters into her own embiggened hands — but with Krakoan tech compromised, you can bet Wolverine and the X-Men won't be far behind! The best there is at what he does joins one of the Marvel Universe's brightest heroes to kick off an action-packed adventure — but to solve this conundrum, Kamala Khan will need to rub shoulders with more dark vigilantes! When a mechanical (and maniacal!) evil brings her into Moon Knight's orbit, the gravity of what they uncover will require them to plumb the depths of life and death! But can anything prepare Kamala for a team-up with Venom?! Collecting MS. MARVEL & WOLVERINE #1, MS. MARVEL & MOON KNIGHT #1 and MS. MARVEL & VENOM #1.
104 PGS./Rated T+ …$15.99
ISBN: 978-1-302-94838-2
Trim size: 6-5/8 x 10-3/16