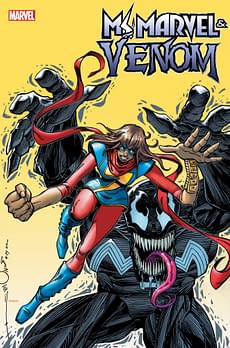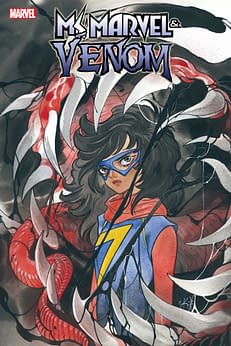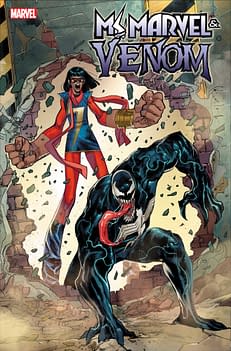 MS. MARVEL & VENOM #1
JODY HOUSER (W) • DAVE WACHTER (A) • Cover by SARA PICHELLI
Variant Cover by PEACH MOMOKO • Variant Cover by WALTER SIMONSON
DEADLY SYMBIOSIS!
VENOM is on the hunt…but who is hunting Venom?!
MS. MARVEL teams up with Dylan Brock, the new wicked web-slinger on the block, as a scheme to harness the symbiote rears its ugly head!
The first Venom/Ms. Marvel partnership is also the concluding movement of the super hero symphony of the summer, as we reveal the connection between WOLVERINE, MOON KNIGHT and VENOM, and KAMALA KHAN'S team-up uncovers the larger plot behind it all — you're not going to believe who's pulling the strings!
40 PGS./ONE-SHOT/Rated T+…$4.99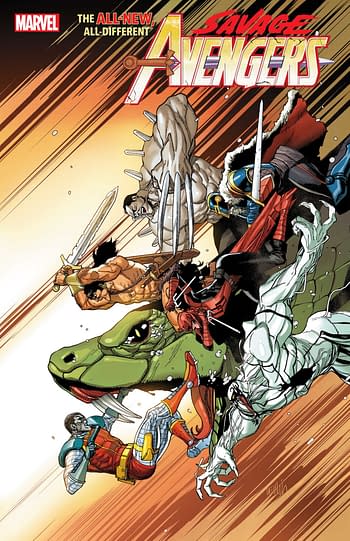 SAVAGE AVENGERS #5
DAVID PEPOSE (W) • CARLOS MAGNO (A) • Cover by LEINIL FRANCIS YU
THE HYBORIAN HUNT'S SHOCKING CONCLUSION!
Conan is dead. Long live Conan of Cimmeria. But with Thulsa Doom and the Cult of Set ready to accomplish their ultimate plan, the Savage Avengers might not have time to mourn. Can Marvel's deadliest heroes dig deep within themselves to save the past, present and future or will Deathlok's journey across the timestream have been for nothing? With the fate of the world at stake, the Savage Avengers will face the threat the only way they know how — to the death.
32 PGS./Parental Advisory …$3.99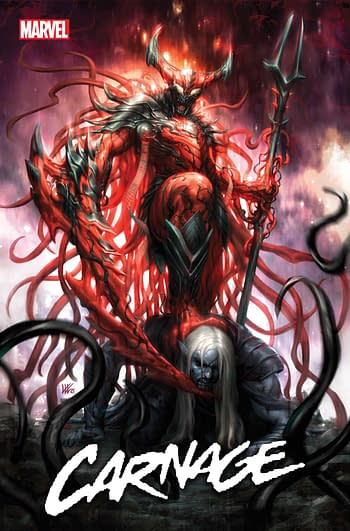 CARNAGE #6
RAM V (W) • ROGE ANTONIO (A)
Cover by Kendrik "kunkka" Lim
VARIANT COVER BY DECLAN SHALVEY
The Carnage symbiote has a bloodlust unlike any other organism in the Marvel Universe. IN THIS ISSUE, its ruthless and aggressive efforts to quench that bloodlust reach new and never before seen heights. But what in the Hel is Carnage up to, and what will it do to anyone who gets in its way?!
32 PGS./Rated T+ …$3.99
order using 75960620243000611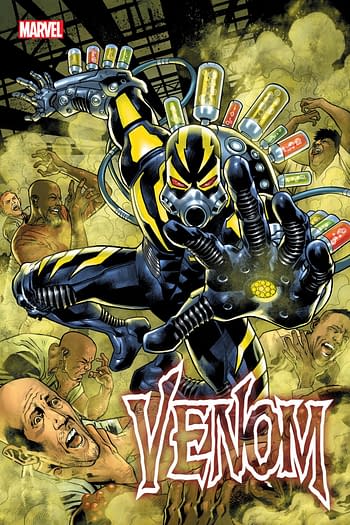 VENOM #11
AL EWING (W) • BRYAN HITCH (A/C)
VARIANT BY DAVE RAPOZA
"DEMONIFICATION" STARTS HERE!
After the explosive (and GUT-WRENCHING) revelations of VENOM #10, the third terrifying arc of VENOM begins in explosive fashion, with DYLAN BROCK at the mercy of BEDLAM! But where is Dylan's father, the original Venom? WHERE IS EDDIE BROCK?!
32 PGS./Rated T+ …$3.99
order using 75960620191401111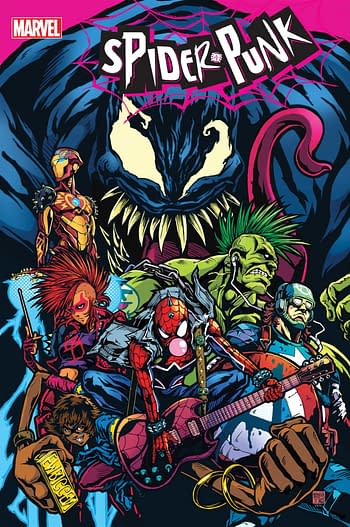 SPIDER-PUNK #5 (OF 5)
CODY ZIGLAR (W) • JUSTIN MASON (A)
Cover by TAKASHI OKAZAKI
CLASH IN DC!
• The stage is set, the instruments tuned and everything is ready for the execution.
• …EXECUTION?!
• Spider-Punk and his band of misfits better survive in time for an encore! ONE. MORE. SONG. ONE! MORE! SONG!
32 PGS./Rated T …$3.99
order using 75960620244700511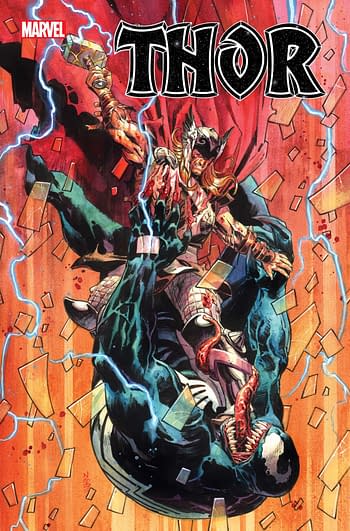 THOR #28
DONNY CATES (W) • SALVADOR LARROCA (A)
Cover by NIC KLEIN
BEYOND AMAZING SPIDER-MAN
VARIANT COVER BY GREG SMALLWOOD
THOR VS. VENOM – ROUND TWO!
Hammer vs. tongue! Thunder vs. symbiote! Golden hair vs. pointy teeth! It's the epic finale of this dark, twisted team-up between Thor and Venom! How will events from the current VENOM series impact the future of Asgard? Find out here!
32 PGS./Rated T+ …$3.99
order using 75960609539102811