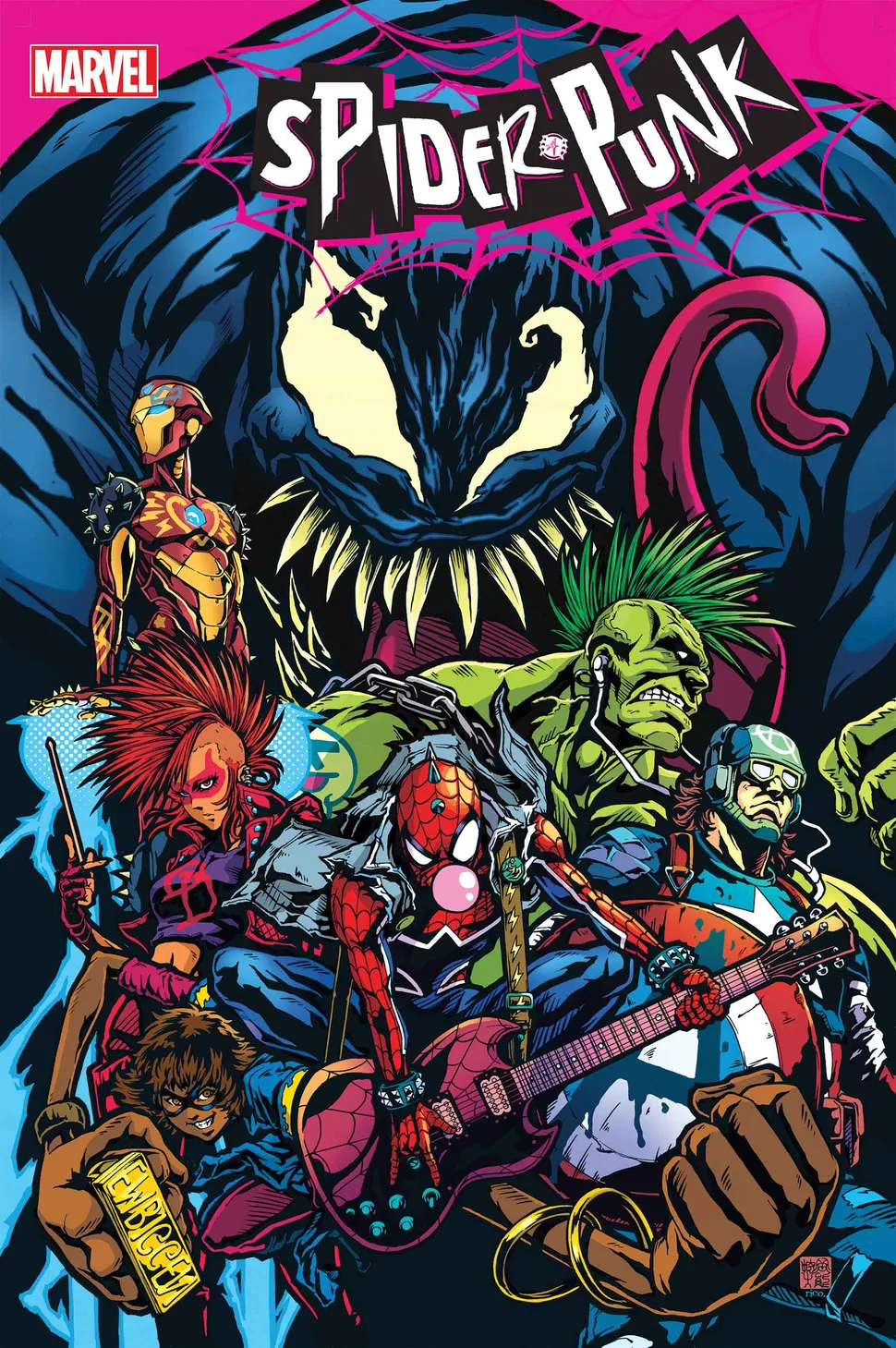 SPIDER-PUNK #5 (OF 5)
CODY ZIGLAR (W) • JUSTIN MASON (A)
Cover by TAKASHI OKAZAKI
CLASH IN DC!
• The stage is set, the instruments tuned and everything is ready for the execution.
• …EXECUTION?!
• Spider-Punk and his band of misfits better survive in time for an encore! ONE. MORE. SONG. ONE! MORE! SONG!
32 PGS./Rated T …$3.99
ON SALE 8/3/2022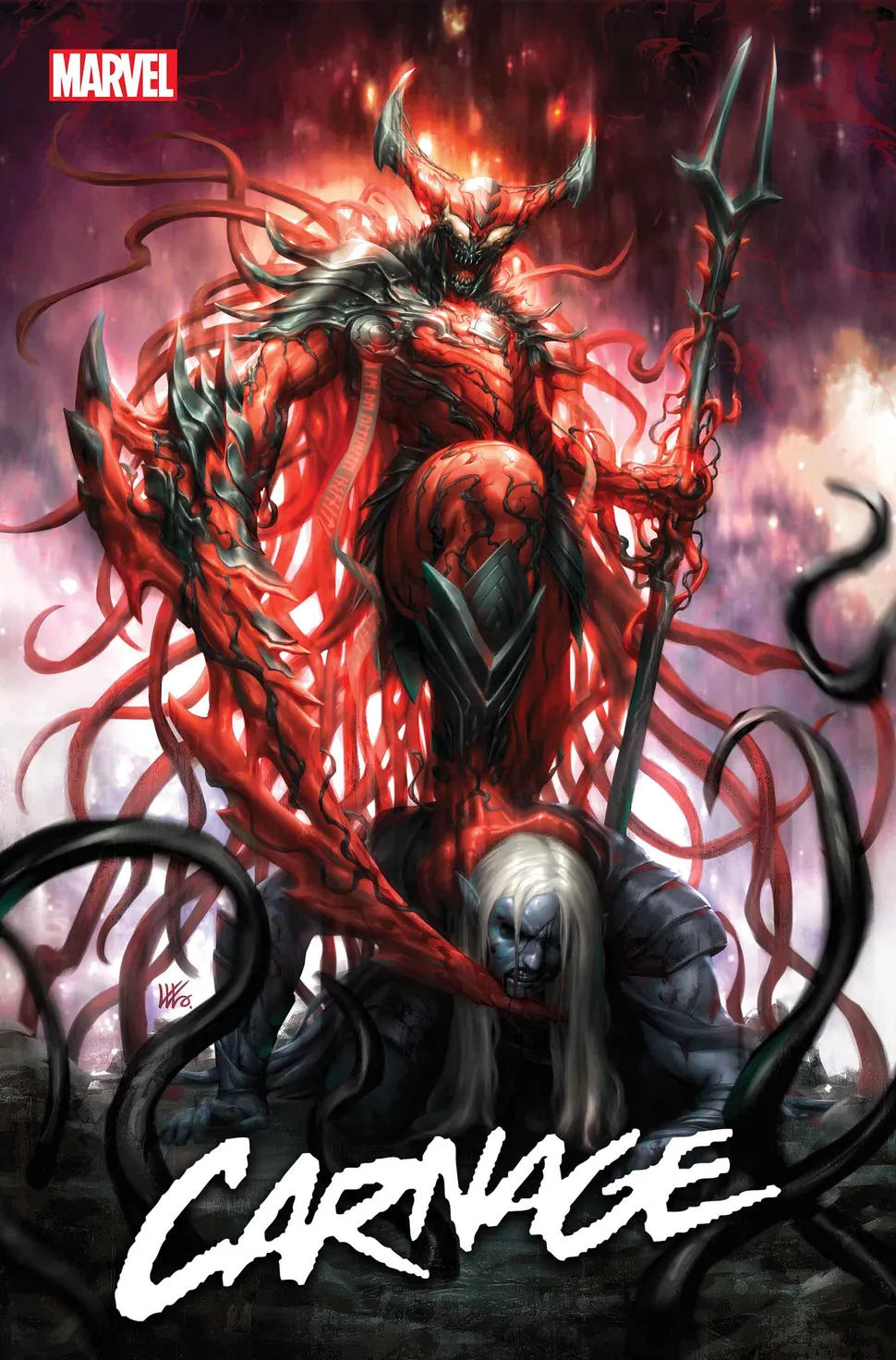 CARNAGE #6

RAM V (W) • ROGE ANTONIO (A)
Cover by Kendrik "kunkka" Lim
VARIANT COVER BY DECLAN SHALVEY
The Carnage symbiote has a bloodlust unlike any other organism in the Marvel Universe. IN THIS ISSUE, its ruthless and aggressive efforts to quench that bloodlust reach new and never before seen heights. But what in the Hel is Carnage up to, and what will it do to anyone who gets in its way?!
32 PGS./Rated T+ …$3.99
ON SALE 8/31/2022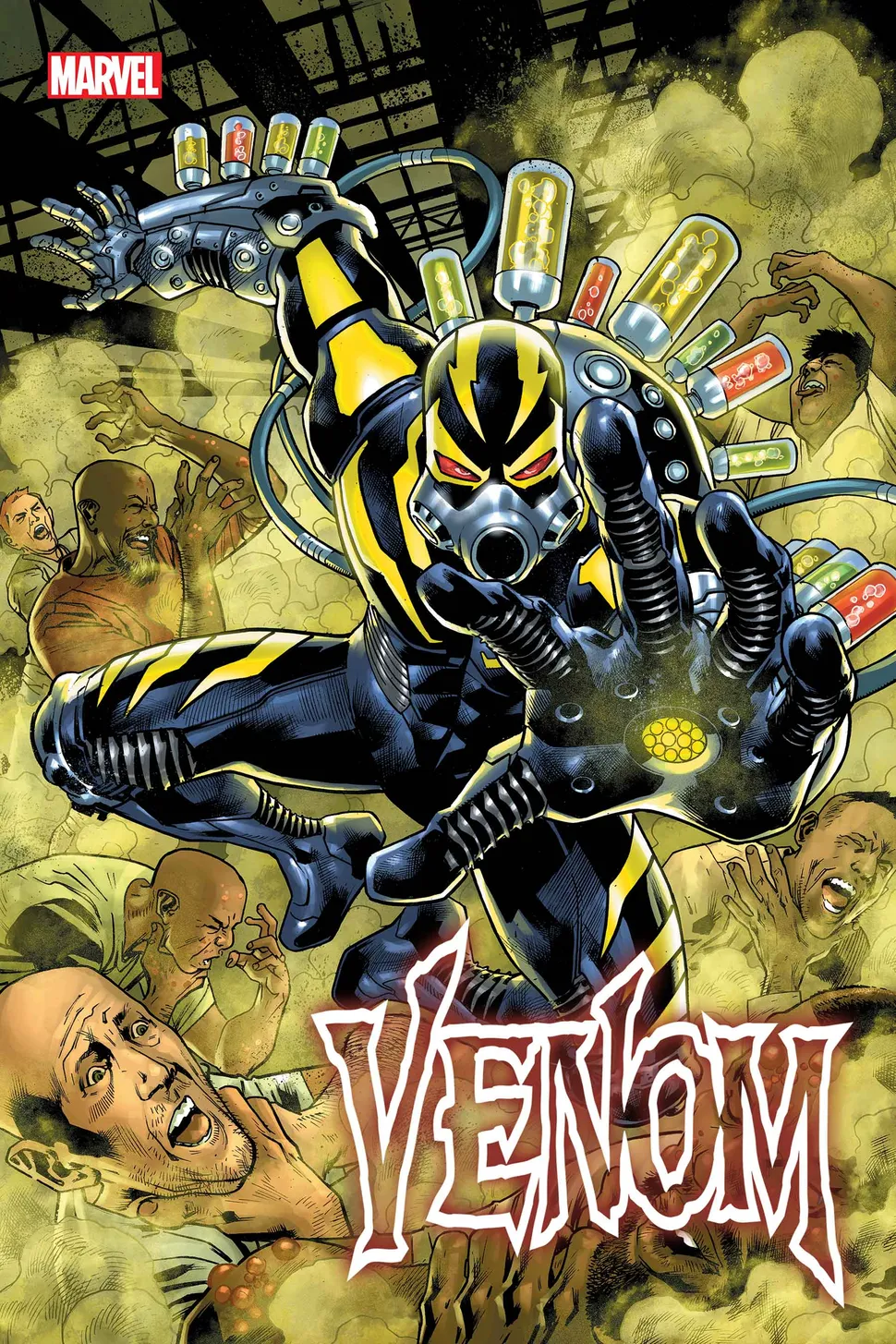 VENOM #11
AL EWING (W) • BRYAN HITCH (A/C)
VARIANT BY DAVE RAPOZA
"DEMONIFICATION" STARTS HERE!
After the explosive (and GUT-WRENCHING) revelations of VENOM #10, the third terrifying arc of VENOM begins in explosive fashion, with DYLAN BROCK at the mercy of BEDLAM! But where is Dylan's father, the original Venom? WHERE IS EDDIE BROCK?!
32 PGS./Rated T+ …$3.99
ON SALE 8/3/2022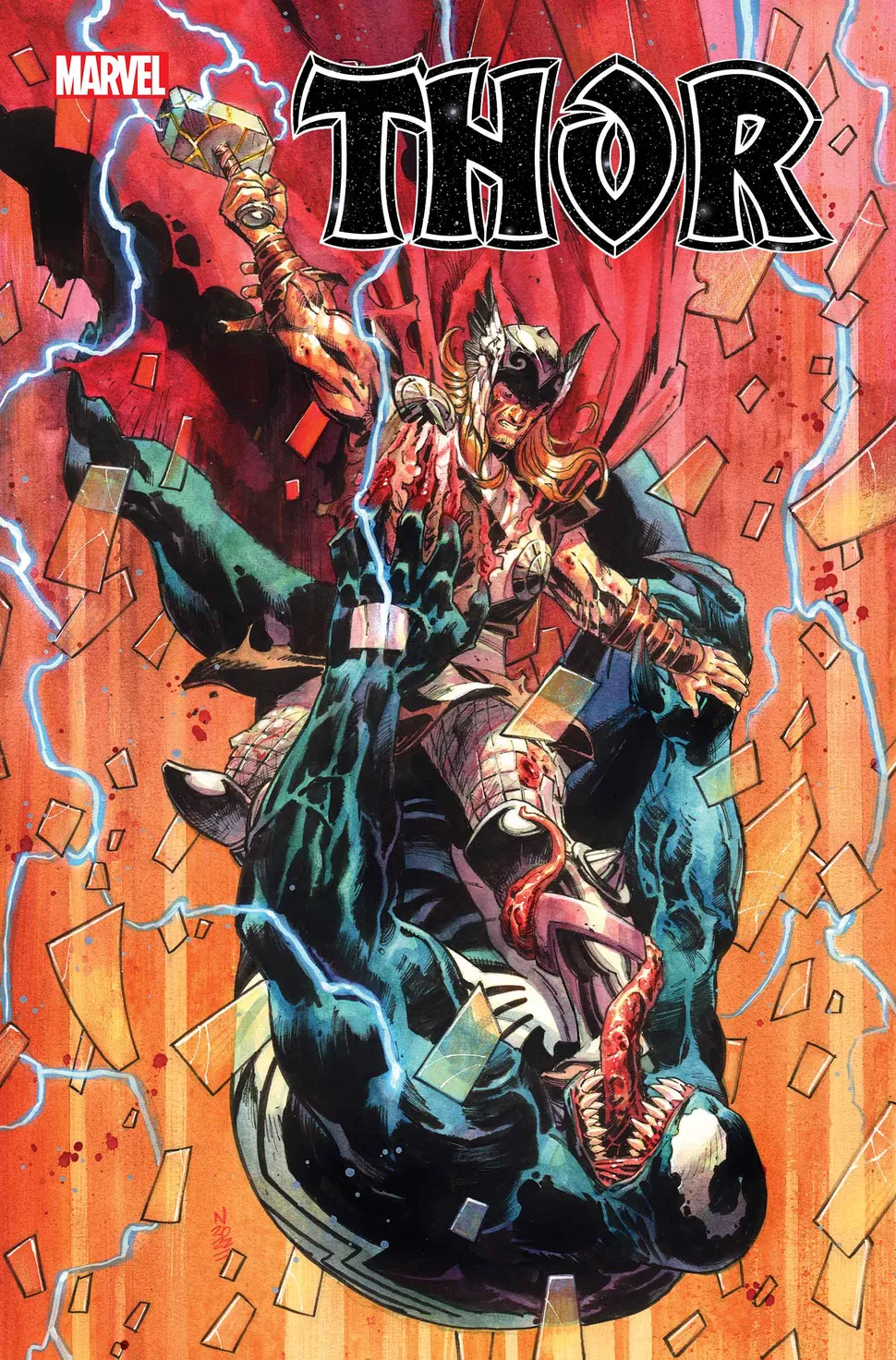 THOR #28
DONNY CATES (W) • SALVADOR LARROCA (A) • Cover by NIC KLEIN
BEYOND AMAZING SPIDER-MAN VARIANT COVER BY GREG SMALLWOOD
THOR VS. VENOM – ROUND TWO!
Hammer vs. tongue! Thunder vs. symbiote! Golden hair vs. pointy teeth! It's the epic finale of this dark, twisted team-up between Thor and Venom! How will events from the current VENOM series impact the future of Asgard? Find out here!
32 PGS./Rated T+ …$3.99
ON SALE 8/31/2022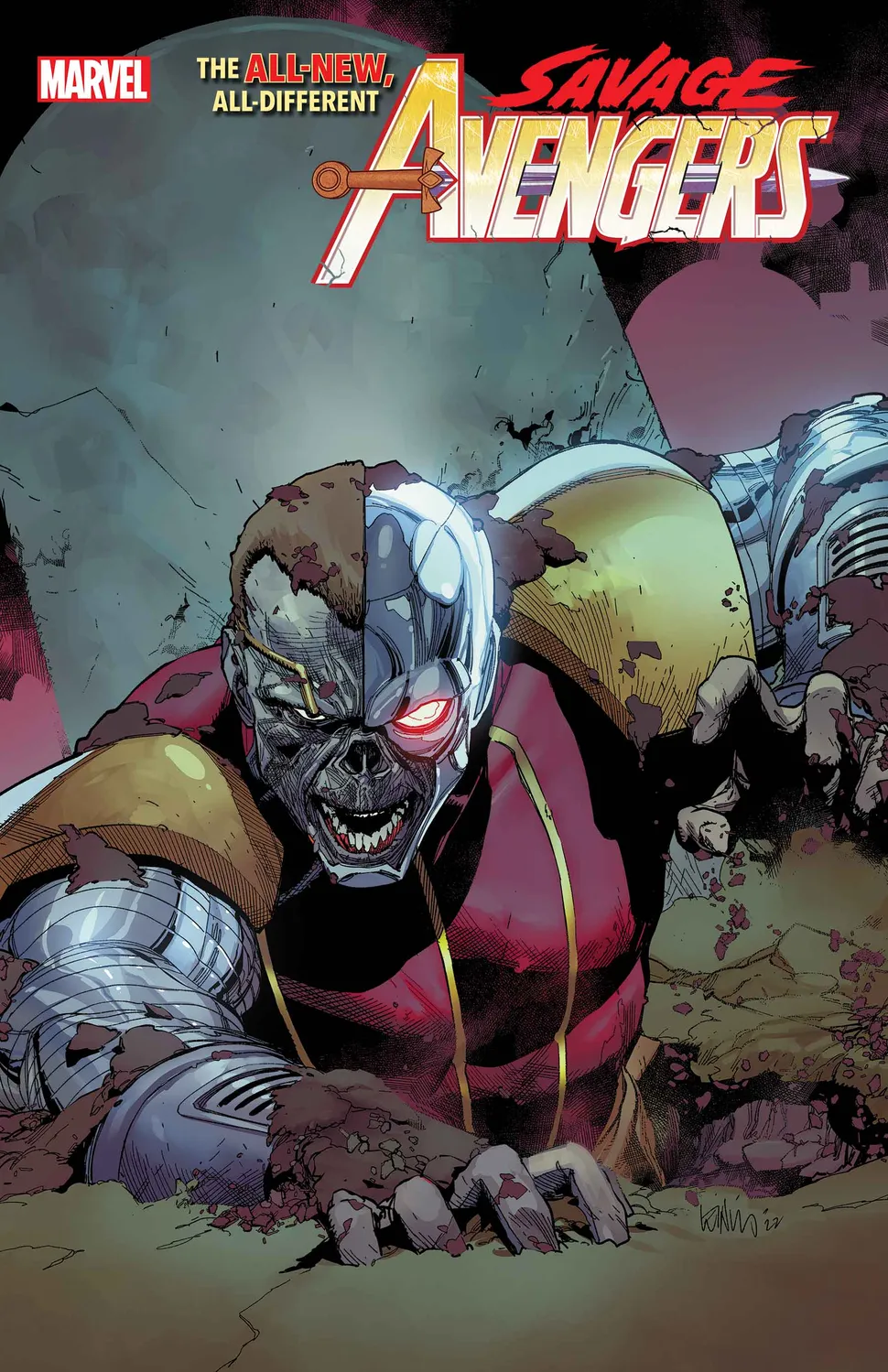 SAVAGE AVENGERS #4
DAVID PEPOSE (W) • CARLOS MAGNO (A) • Cover by LEINIL FRANCIS YU
WHO IS DEATHLOK? [[Consciousness rebooting…]]
Tasked with pursuing Conan the Barbarian, the cybernetic hunter known as Deathlok must now come to terms with his past. [[Where am I?]] And with Conan in the hands of Thulsa Doom, the Savage Avengers must turn to the unlikeliest of sources for aid. [[101100… Is that my face?]] How did one hero's sacrifice lead to the end of the world? [[WARNING: Temporal safeties disengaged.]] Without their ticket back to the present, can the Savage Avengers stop Set's return in the past — or will the snake god conquer the planet thousands of years ahead of schedule?
32 PGS./Parental Advisory …$3.99
ON SALE 8/3/2022
VENOM: LETHAL PROTECTOR - HEART OF THE HUNTED TPB
Written by DAVID MICHELINIE
Penciled by IVAN FIORELLI
Cover by PAULO SIQUEIRA
Venom co-creator David Michelinie returns to tell an untold tale of the Lethal Protector! Before Carnage and space gods, clones and toxins and the revelation he was a father, Eddie Brock was a down-on-his-luck reporter who had tried to take his own life and been saved by an extraterrestrial alien. This new story set during Venom's earliest days welcomes Michelinie back into the symbiote hive with open arms as he and rising star Ivan Fiorelli unite to tell a horrifying story that not only revisits the wicked web-slinger's past, but also hints at what's to come in his future! Featuring Venom vs. Hydro-Man! The love of Eddie's life in the arms of another man! And a bounty on the Lethal Protector's head that attracts a gauntlet of deadly foes — including the Taskmaster! Collecting VENOM: LETHAL PROTECTOR (2022) #1-5.
128 PGS./Rated T+ …$15.99
ISBN: 978-1-302-93027-1
Trim size: 6-5/8 x 10-3/16
ON SALE 9/14/2022
VENOM EPIC COLLECTION: CARNAGE UNLEASHED TPB
Volume #5 in the Venom Epic Collections
Written by MIKE LACKEY, TERRY KAVANAGH, HOWARD MACKIE, LARRY HAMA, BOB BUDIANSKY & MORE
Penciled by ANDREW WILDMAN, STEVEN BUTLER, TOM LYLE, RON RANDALL, GREG LUZNIAK, TED HALSTED, DAVE HOOVER & MORE
Cover by ANDREW WILDMAN
Separation anxiety for Eddie Brock and Venom! The sinister symbiote finds himself caught in the web of Spider-Man's clone, the Scarlet Spider! But when the battle leads to Eddie and his other being separated, can they find a way to escape captivity and reunite — or will the Life Foundation symbiotes stand in their way? Venom will need to be back at full strength when a hit video game provides Cletus Kasady with the opportunity to unleash Carnage once more! And when killer vigilante Sin-Eater strikes, Eddie's ex-wife is caught in the crossfire. To survive, must she become the bride of Venom? Collecting SPIDER-MAN: THE ARACHNIS PROJECT #6, WEB OF SPIDER-MAN (1985) #118-119, SPIDER-MAN (1990) #52-53, VENOM: SEPARATION ANXIETY #1-4, VENOM: CARNAGE UNLEASHED #1-4, VENOM: SINNER TAKES ALL #1-4 (A stories) and #5, UNCANNY ORIGINS #7 and Venom subplot pages.
496 PGS./Rated T …$44.99
ISBN: 978-1-302-94825-2
Trim size: 6-5/8 x 10-3/16
ON SALE 10/12/2022