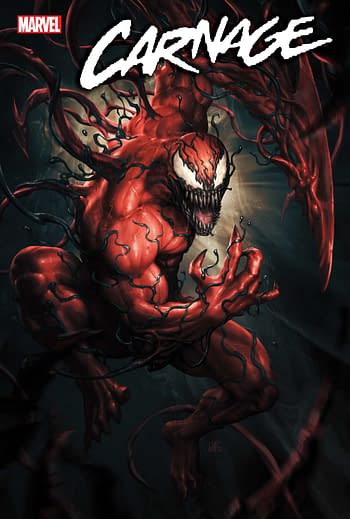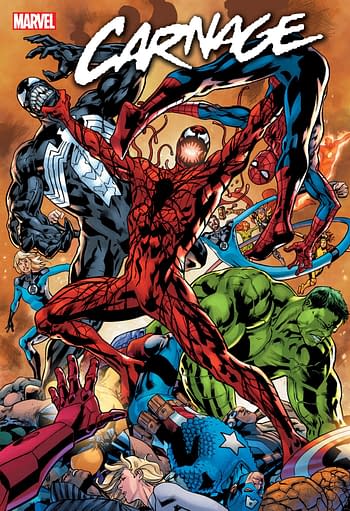 CARNAGE #1
RAM V (W) • FRANCESCO MANNA (A) • Cover by Kendrik "kunkka" Lim
VARIANT COVER BY SIMONE BIANCHI
VARIANT COVER BY BRYAN HITCH
VARIANT COVER BY DAN PANOSIAN
VARIANT COVER BY RON LIM
VARIANT COVER BY PAULO SIQUIERA
VARIANT COVER BY MARK BAGLEY
VARIANT COVER BY LEINIL FRANCIS YU
THE BLOODCURDLING CARNAGE SERIES YOU'VE BEEN WAITING FOR!
RAM V has carved a perfect home for himself in the symbiote corner of the Marvel U, and in this all-new ongoing series starring Venom's most notorious offspring, that corner is about to get a little bit bigger…and bloodier! After the revelations of CARNAGE FOREVER, and in a year that's set to be a celebration of all things CARNAGE, this is one symbiote story you cannot afford to miss!
40 PGS./Rated T+ …$4.99
ON SALE 3/2/2022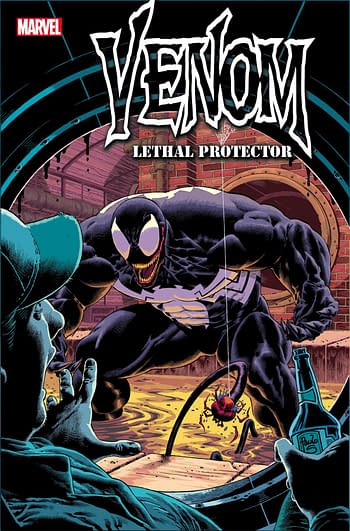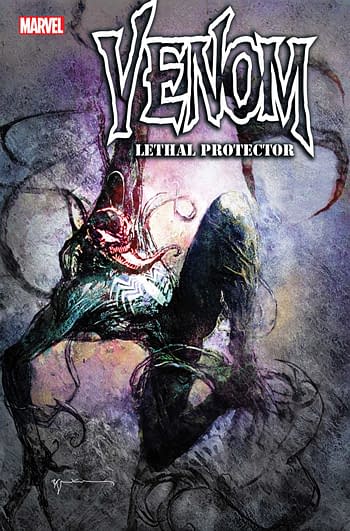 VENOM: LETHAL PROTECTOR #1 (OF 5)

DAVID MICHELINIE (W) • IVAN FIORELLI (A) • Cover by Paulo Siqueira
VARIANT COVER BY BILL SIENKIEWICZ
STORMBREAKERS VARIANT COVER BY JOSHUA CASSARA
VARIANT COVER BY DAVID NAKAYAMA
AN EPIC RETURN!
Before Carnage and space gods, clones and toxins, and the revelation that he was a father, Eddie Brock was a down-on-his-luck reporter who had tried to take his own life and been saved by an extraterrestrial alien.
This all-new story set in the character's earliest days welcomes Venom co-creator DAVID MICHELINIE back into the symbiote hive with open arms, as he and rising star IVAN FIORELLI unite to tell a new, horrifying tale that not only revisits the wicked web-slinger's past, but hints at what's to come in his future!
40 PGS./Rated T+ …$4.99
ON SALE 3/23/2022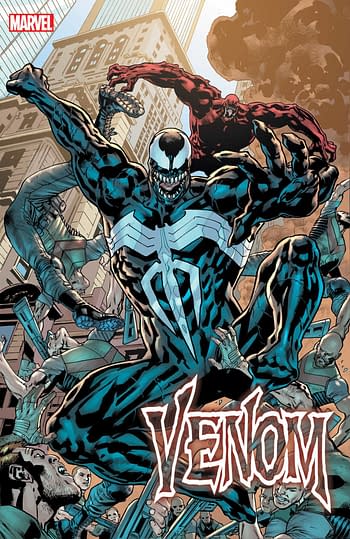 VENOM #6
RAM V (W) • BRYAN HITCH (A/C) • VARIANT COVER BY CARLOS MAGNO
VARIANT COVER BY MARK BAGLEY • VARIANT COVER BY ADAM HUGHES
"DESTRUCTION" BEGINS HERE!
Dylan Brock is in the fight of his life — and he may be in it alone! As he and the VENOM symbiote continue to learn to live together without Eddie Brock, the LIFE FOUNDATION has activated a deadly new operative named the SPEARHEAD! Dylan and Venom aren't the only ones dead in his sights — every single symbiote they (and YOU!) have ever known and cared about is as well!
32 PGS./Rated T+ …$3.99
ON SALE 3/9/2022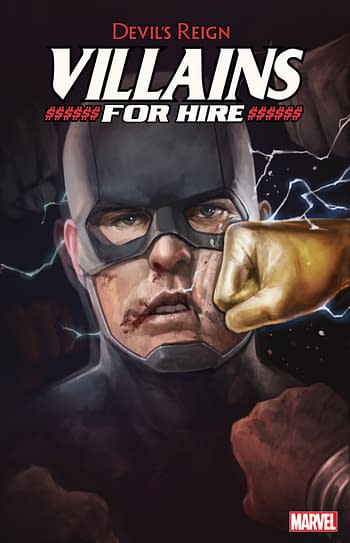 DEVIL'S REIGN: VILLAINS FOR HIRE #3 (OF 3) (Agony appearance)
CLAY MCLEOD CHAPMAN (W)
MANUEL GARCIA (A)
Cover by SKAN
VARIANT COVER BY DAVID NAKAYAMA
As Wilson Fisk's city descends into all-out chaos, the Thunderbolts are the only law left on the streets! But some of these 'Bolts are only interested in serving and protecting themselves, and where others see chaos and fear, they see OPPORTUNITY! CASH TO BE MADE! SKULLS TO BE CRACKED!
32 PGS./Rated T+ …$3.99
ON SALE 3/15/2022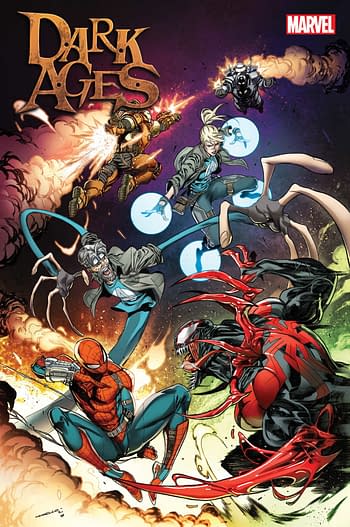 DARK AGES #6 (OF 6)
TOM TAYLOR (W) • IBAN COELLO (A/C) • Variant Cover by RYAN STEGMAN
VARIANT COVER BY STEPHANIE HANS
VARIANT COVER BY MAHMUD ASRAR
• All the sacrifices made on the day the world went dark could be for nothing if Apocalypse has his way.
• Some of the greatest minds on the planet have been enslaved by the tyrant and are working on a plan that could end in annihilation.
• Will our heroes, fighting for their loved ones and lost ones, be able to stop Apocalypse and his forces, or could the world end again?
32 PGS./Rated T+ …$3.99
ON SALE 3/30/2022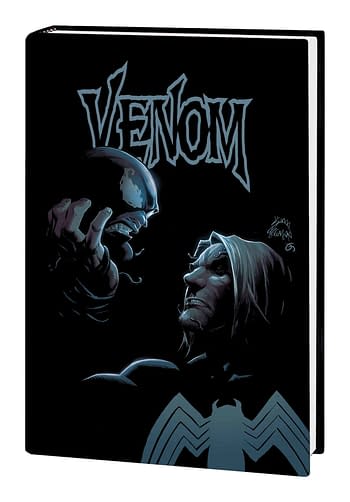 VENOMNIBUS BY CATES & STEGMAN HC STEGMAN
KING IN BLACK COVER
Written by DONNY CATES, CULLEN BUNN, DAVID MICHELINIE & MORE
Penciled by RYAN STEGMAN, IBAN COELLO, JOSHUA CASSARA, JUAN GEDEON, MARK BAGLEY, RON LIM, LUKE ROSS, KEV WALKER, DANILO BEYRUTH, GUIU VILANOVA, JUANAN RAMÍREZ & MORE
Covers by RYAN STEGMAN
Donny Cates and Ryan Stegman's epic reinvention of Venom! An ancient and primordial evil surfaces beneath New York, awakening something deep inside Eddie Brock's symbiote — and nothing will ever be the same for Venom! Cletus Kasady wreaks Absolute Carnage against the former hosts of symbiotes, Eddie faces a battle for survival on the Island of Bones and an attack by the armored Virus sends Venom into a whole different world of terror! But when Knull, god of symbiotes, awakens and heads for Earth, can anyone survive the darkness of the King in Black? Collecting VENOM (2018) #1-35; VENOM ANNUAL (2018) #1; WEB OF VENOM: VE'NAM, CARNAGE BORN and WRAITH; ABSOLUTE CARNAGE #1-5; KING IN BLACK #1-5; and material from FREE COMIC BOOK DAY 2019 (SPIDER-MAN/VENOM); FREE COMIC BOOK DAY 2020 (SPIDER-MAN/VENOM), INCOMING #1 and CARNAGE: BLACK, WHITE & BLOOD #2.
1352 PGS./Parental Advisory …$125.00
ISBN: 978-1-302-94641-8
Trim size: 7-1/4 x 10-7/8
ON SALE 7/27/2022


VENOMNIBUS BY CATES & STEGMAN HC STEGMAN REX COVER [DM ONLY]
1352 PGS./Parental Advisory …$125.00
ISBN: 978-1-302-94642-5
Trim size: 7-1/4 x 10-7/8
KING IN BLACK OMNIBUS HC STEGMAN FALL COVER
Written by DONNY CATES, AL EWING, CHRISTOPHER CANTWELL, SI SPURRIER, GERRY DUGGAN,
GEOFFREY THORNE, DANNY LORE, TINI HOWARD, JED MACKAY, CLAY MCLEOD CHAPMAN, ED BRISSON,
SEANAN MCGUIRE, KURT BUSIEK, JASON AARON, TORUNN GRØNBEKK, MATTHEW ROSENBERG, PETER DAVID, CHIP ZDARSKY, KELLY THOMPSON, DAN SLOTT, SALADIN AHMED, KARLA PACHECO, PAUL GRIST & MORE
Penciled by RYAN STEGMAN, AARON KUDER, SALVADOR LARROCA, JESÚS SAIZ, LUKE ROSS,
GERMÁN PERALTA, LUCIANO VECCHIO, MICHELE BANDINI, GARRY BROWN, JUAN FRIGERI, FLAVIANO,
BENJAMIN DEWEY, DANILO BEYRUTH, GERARDO SANDOVAL, NINA VAKUEVA, JUAN FERREYRA, GREG LAND, CARLOS VILLA, MARCO CHECCHETTO, MIKE HAWTHORNE, ZÉ CARLOS, JUANN CABAL, CARMEN CARNERO, VALERIO SCHITI, KEV WALKER, PERE PÉREZ, ANDREA DI VITO, IBAN COELLO & MORE
Covers by RYAN STEGMAN
Darkness reigns in the Marvel Universe! After a campaign of terror across the galaxy, Knull — ancient and malevolent god of symbiotes — reaches Earth with an endless army of symbiote dragons at his command! The King in Black is a force unlike any ever faced by Venom and the rest of the planet's heroes — but now Spider-Man, the Avengers, the Hulk, the Fantastic Four, the Sub-Mariner and more must battle an endless wave of darkness! Outgunned and badly outnumbered, can anyone possibly survive Knull's symbiotic onslaught? Or will they all be forced to bow to the King in Black? Featuring every epic chapter in one monstrous, black-hearted volume! Collecting KING IN BLACK #1-5; KING IN BLACK: IMMORTAL HULK, IRON MAN/DOCTOR DOOM, BLACK KNIGHT, MARAUDERS, BLACK PANTHER, CAPTAIN AMERICA, WICCAN AND HULKLING, SPIDER-MAN, SCREAM and GHOST RIDER; KING IN BLACK: GWENOM VS. CARNAGE #1-3; KING IN BLACK: NAMOR #1-5; KING IN BLACK: PLANET OF THE SYMBIOTES #1-3; KING IN BLACK: RETURN OF THE VALKYRIES #1-4; KING IN BLACK: THUNDERBOLTS #1-3; SYMBIOTE SPIDER-MAN: KING IN BLACK #1-5; BLACK CAT (2020) #1-3; DAREDEVIL (2019) #26-27; DEADPOOL (2019) #10; FANTASTIC FOUR (2018) #29-30; GUARDIANS OF THE GALAXY (2020) #10; MILES MORALES: SPIDER-MAN #23; S.W.O.R.D. (2020) #2-4; SAVAGE AVENGERS (2019) #17-19; SPIDER-WOMAN (2020) #7-8; THE UNION #1-2; VENOM (2018) #31-34; and KING IN BLACK HANDBOOK.
1568 PGS./Parental Advisory …$150.00
ISBN: 978-1-302-94643-2
Trim size: 7-1/4 x 10-7/8
ON SALE 8/3/2022

KING IN BLACK OMNIBUS HC STEGMAN DAWN COVER [DM ONLY]
1568 PGS./Parental Advisory …$150.00
ISBN: 978-1-302-94644-9
Trim size: 7-1/4 x 10-7/8