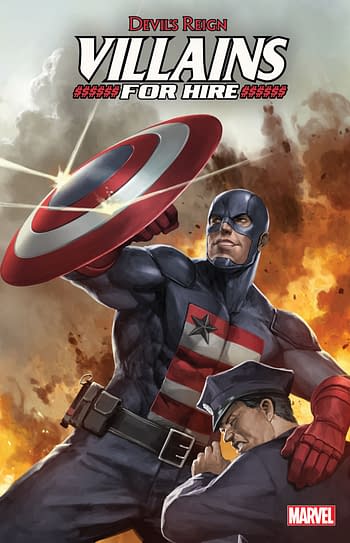 DEVIL'S REIGN: VILLAINS FOR HIRE #2 (OF 3)
CLAY MCLEOD CHAPMAN (W)
MANUEL GARCIA (A)
Cover by SKAN
VARIANT COVER BY PAULO SIQUEIRA
WHAT'S LAW GOT TO DO WITH IT?
As his war against vigilantes grows, Wilson Fisk has laid out a proposition for the villains of the Marvel Universe: Join him or suffer the same fate as the heroes…or worse.
32 PGS./Rated T+ …$3.99
ON SALE 2/2/2022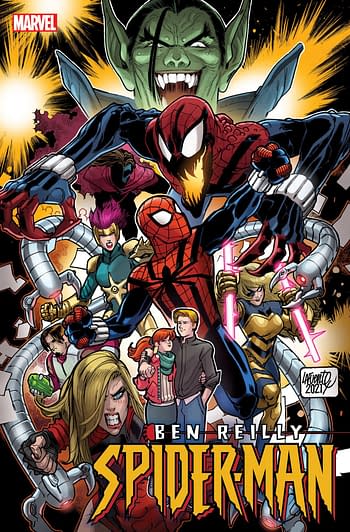 BEN REILLY: SPIDER-MAN #2 (OF 5)
J.M. DE MATTEIS (W) • DAVID BALDEÓN (A)
Cover by STEVE SKROCE
Variant Cover by DAN JURGENS
Variant Cover by DAVID LAFUENTE
SCORPION STINGS!
BEN REILLY comes to blows with the sinister SCORPION as SPIDER-MAN begins to face down a gauntlet of his most fearsome foes!
But is all as it seems?
32 PGS./Rated T …$3.99
ON SALE 2/9/2022
CARNAGE FOREVER #1
PHILLIP KENNEDY JOHNSON, RAM V, TY TEMPLETON (W)
EDGAR SALAZAR, TY TEMPLETON, AND MORE! (A)
COVER BY KENDRICK LIM
VARIANT COVER BY MARK BAGLEY
VARIANT COVER BY JONBOY MEYERS
VARIANT COVER BY Dan Panosian
A KILLER CELEBRATION!
Cletus Kasady is the most notorious serial killer in the Marvel Universe — and it's been thirty years since his first introduction! Thirty years of monsters, mayhem and murder — AND YOU HAVEN'T SEEN ANYTHING YET! With an awesome assembly of creators, this issue will HAVE IT ALL! A look back on Carnage's past, his present and, just maybe, the first hints you'll ever get of his visceral and violent FUTURE!
40 PGS./ONE-SHOT/Rated T+ …$4.99
ON SALE 2/23/2022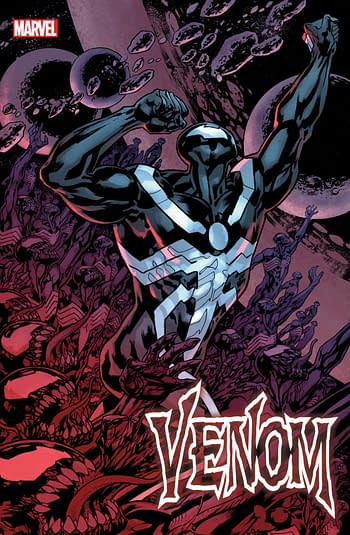 VENOM #5
AL EWING (W) • BRYAN HITCH (A/C) • X-Gwen Variant Cover by RUSSELL DAUTERMAN
VARIANT COVER BY PAULO SIQUEIRA
If you thought the first four issues of the latest volume of VENOM were crazy, all-out action, just wait till you get a load of this one! IN THIS ISSUE, Al Ewing returns to the pages of Venom – AND HE'S BROUGHT ANSWERS TO YOUR QUESTIONS WITH HIM!
32 PGS./Rated T+ …$3.99
ON SALE 2/9/2022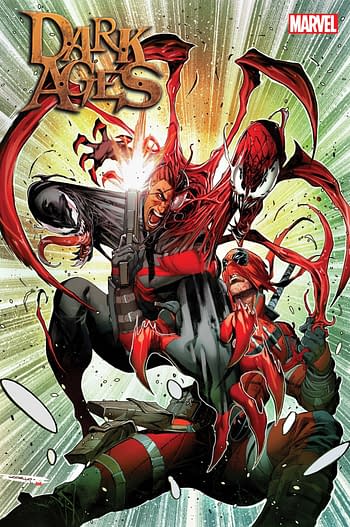 DARK AGES #5 (OF 6)
TOM TAYLOR (W) • IBAN COELLO (A/C) • Variant Cover by RYAN STEGMAN
VARIANT COVER BY KYLE HOTZ • VARIANT COVER BY PEACH MOMOKO
BLACK HISTORY MONTH VARIANT COVER BY JOSHUA "SWAY" SWABY
VARIANT COVER BY TBA
Spider-Man joins Doctor Doom, the X-Men, the Inhumans, the Avengers and what's left of the Fantastic Four on a rescue mission across a continent ruled by a madman. But they could be too late. The dictator of Europe has heroes and villains by his side, and the unthinkable is now in motion. Apocalypse could tear the world apart.
32 PGS./Rated T+ …$3.99
ON SALE 2/16/2022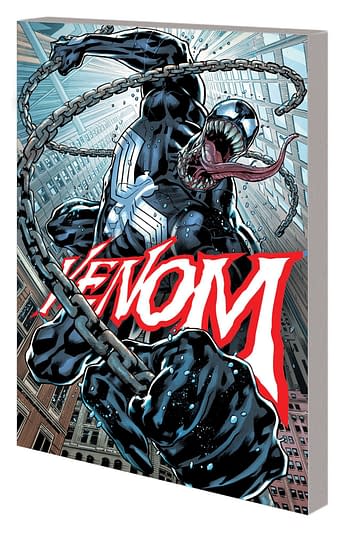 VENOM BY AL EWING & RAM V VOL. 1: RECURSION TPB
Written by AL EWING & RAM V
Penciled by BRYAN HITCH
Cover by BRYAN HITCH
One blockbuster era gives way to another! Symbiotic writing team Al Ewing and Ram V join superstar artist Bryan Hitch to unleash their vision of Venom! Together, they will push Eddie and Dylan Brock to their limits — and as everything Dylan has come to know and love unravels around him, he begins to realize the terrible truth about his new "other." The Venom symbiote is not a harmless pet, no matter how much it pretends to be one. It's an alien. A dangerous, violent, often bloodthirsty alien. Whatever bond it had with Dylan's father, Eddie — as special as it may have been — is now gone. And Dylan might be gone soon too. Because the villainous Life Foundation is back, led by the insidious Carlton Drake — and they have the new Venom square in their sights! Collecting VENOM (2021) #1-5.
144 PGS./Rated T+ …$17.99
ISBN: 978-1-302-93255-8
Trim size: 6-5/8 x 10-3/16
ON SALE 4/6/2022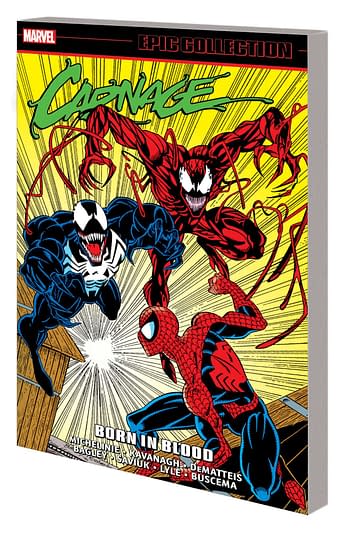 CARNAGE EPIC COLLECTION: BORN IN BLOOD TPB
Volume #1 in the Carnage Epic Collections
Written by DAVID MICHELINIE, TERRY KAVANAGH, J.M. DEMATTEIS & TOM DEFALCO
Penciled by MARK BAGLEY, ALEX SAVIUK, TOM LYLE, SAL BUSCEMA, RON LIM & STEVEN BUTLER
Cover by MARK BAGLEY
Carnage slashes his way into his own Epic Collection! When the offspring of Eddie Brock's alien symbiote bonds with Brock's psychopathic former cellmate, Cletus Kasady, the result is the most deranged and bloodthirsty foe Spider-Man has ever faced! Against the remorseless killer that is Carnage, Spidey must do the unthinkable and forge an alliance with Venom! But Carnage soon gathers some fiendish friends of his own: Carrion, Demogoblin, Shriek and the evil six-armed Spider-Man Doppelganger! And now a small army of heroes — including Spidey, Captain America, Iron Fist, Black Cat, Cloak and Dagger, Morbius and Venom — must hit the streets in a desperate bid to stop Maximum Carnage! Collecting AMAZING SPIDER-MAN (1963) #361-363 and #378-380, WEB OF SPIDER-MAN (1985) #101-103, SPIDER-MAN (1990) #35-37, SPECTACULAR SPIDER-MAN (1976) #201-203 and material from SPIDER-MAN UNLIMITED (1993) #1-2 and AMAZING SPIDER-MAN ANNUAL (1964) #28.
472 PGS./Rated T …$44.99
ISBN: 978-1-302-94662-3
Trim size: 6-5/8 x 10-3/16
ON SALE 3/23/2022