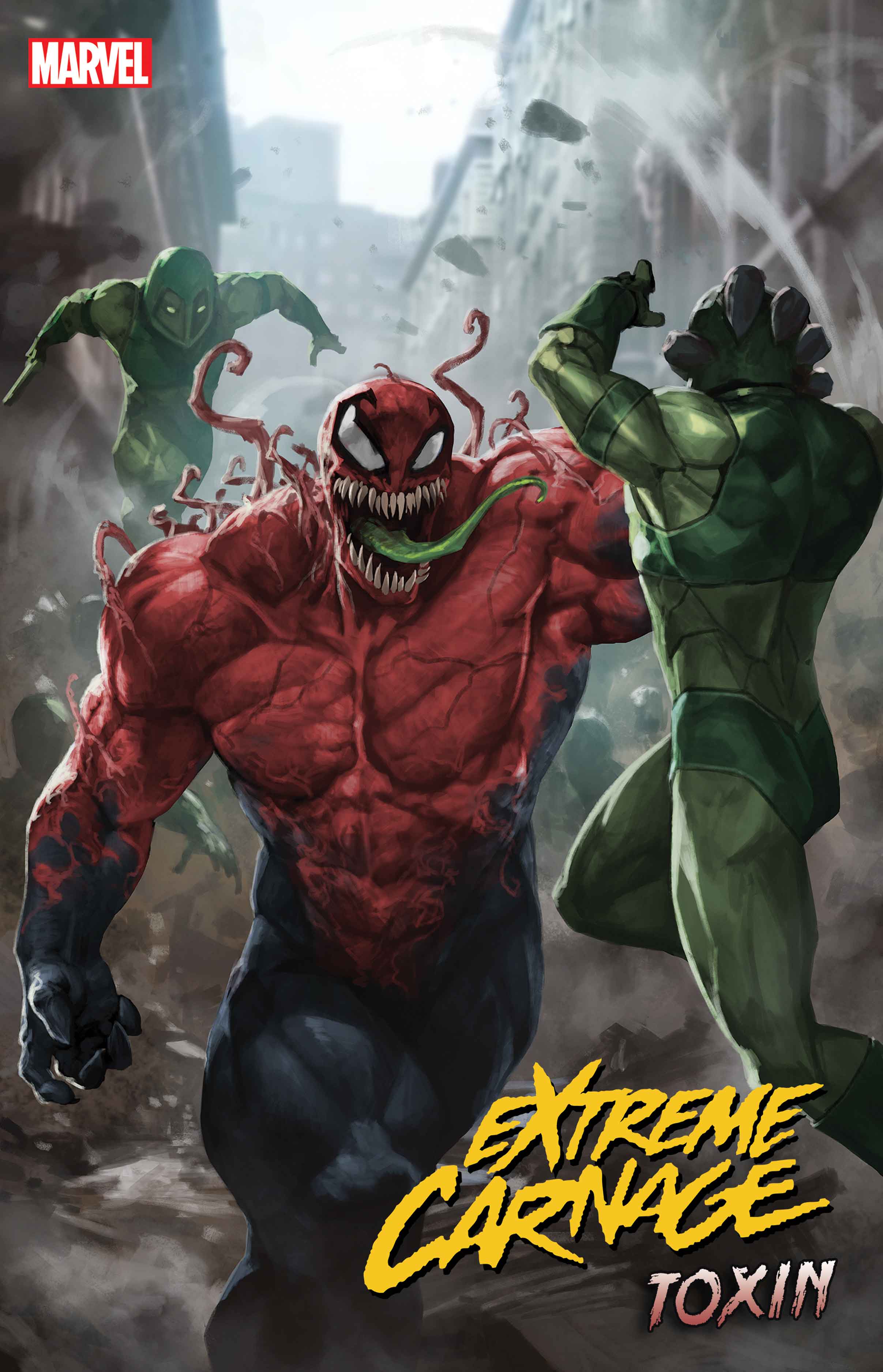 EXTREME CARNAGE: TOXIN #1
STEVE ORLANDO (W) • GERARDO SANDOVAL (A) • Cover by SKAN
Variant Cover by PHILIP TAN
CONNECTING VARIANT COVER BY JEFF JOHNSON
VARIANT COVER BY SKOTTIE YOUNG
SYMBIOTE VARIANT COVER ALSO AVAILABLE
TOXIN RETURNS!
Bren Waters, the new host of TOXIN, enters the fray! Will he be enough to turn the tide?
32 PGS./ONE-SHOT/Rated T+ …$3.99
ON SALE 9/1/2021
EXTREME CARNAGE: AGONY #1
ALYSSA WONG (W) • FRAN GALÁN (A) • Cover by SKAN
Design Variant Cover by DAVID NAKAYAMA
CONNECTING VARIANT COVER BY JEFF JOHNSON
VARIANT COVER BY SKOTTIE YOUNG
SYMBIOTE VARIANT COVER ALSO AVAILABLE
ENTER: AGONY!
As the odds (and symbiotes!) stack against our heroes, is there any way they can win against Carnage?
32 PGS./ONE-SHOT/Rated T+ …$3.99
ON SALE 9/15/2021
EXTREME CARNAGE OMEGA #1
PHILLIP KENNEDY JOHNSON (W) • MANUEL GARCIA (A) • Cover by DAVE RAPOZA
Variant Cover by DALE KEOWN
CONNECTING VARIANT COVER BY JEFF JOHNSON
VARIANT COVER BY SKOTTIE YOUNG
SYMBIOTE VARIANT COVER ALSO AVAILABLE
DEADPOOL 30TH VARIANT COVER BY ROB LIEFELD
STORMBREAKERS VARIANT COVER BY JOSHUA CASSARA
IT'S ALL COME DOWN TO THIS! CARNAGE WINS!
40 PGS./ONE-SHOT/Rated T+ …$4.99
ON SALE 9/29/2021
SYMBIOTE SPIDER-MAN: CROSSROADS #3 (OF 5)
PETER DAVID (W) • GREG LAND (A/C)
VARIANT COVER BY GERALD PAREL
• The dimensional-warp tour keeps rolling as SPIDER-MAN comes face-to-face with a certain big red dinosaur!
• If dinosaurs weren't enough, an unlikely HULK rears his frightening head!
• PLUS: Black Cat and Doctor Strange!
32 PGS./Rated T …$3.99
ON SALE 9/22/2021