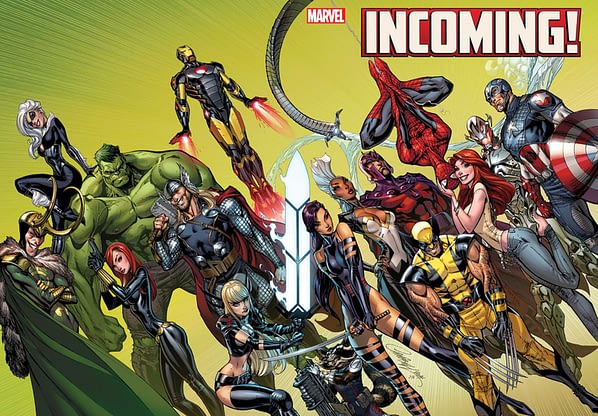 INCOMING #1
AL EWING. DAN SLOTT, CHIP ZDARSKY, KELLY THOMPSON, GREG PAK,
EVE L. EWING, MATT ROSENBERG, ED BRISSON, SALADIN AHMED, TINI HOWARD,
JONATHAN HICKMAN, GREG PAK, DONNY CATES & JASON AARON (W)
HUMBERTO RAMOS, JIM CHEUNG AND MORE! (A)
Cover by Patrick Gleason
Variant Cover by DUSTIN WEAVER
TEASER VARIANT BY KIM JACINTO
Variant Cover by SANFORD GREENE
VARIANT COVER BY JIM CHEUNG
WOMEN OF MARVEL HIDDEN GEM VARIANT COVER BY J. SCOTT CAMPBELL
WRAPAROUND HIDDEN GEM VARIANT COVER BY J. SCOTT CAMPBELL
PARTY VARIANT BY JORGE MOLINA
PREMIERE VARIANT COVER BY Patrick Gleason
ONE WILL UNITE THEM!
A mysterious murder brings together the heroes of the Marvel Universe in the search for a killer - but no one can imagine where the trail will lead, or how it will affect everything in 2020 and beyond! Who is the victim and who is the assailant?
The closing chapter to MARVEL's 80th year, which will connect the dots of everything that happened in 2019 and propel the narrative into the year that is to come! Featuring the Avengers, the Fantastic Four, the X-Men, the Guardians of the Galaxy, Daredevil, Spider-Man, the Champions, the Agents of Atlas, Valkyrie, the Immortal Hulk, Jessica Jones, Venom, Ghost Rider, the Masked Raider and more!
96 PGS./ONE SHOT/Rated T+ …$9.99
ON SALE 12/26/19
VENOM 2099 #1
JODY HOUSER (W) • FRANCESCO MOBILI (A)
Cover by CLAYTON CRAIN
VARIANT COVER BY RON LIM
VARIANT COVER BY OTTO SCHMIDT
WHAT IS VENOM 2099?
Welcome to the future, where the cure for what ails you is at your fingertips with ALCHEMAX! Our industry-leading pharmaceutical department (HELP) is providing consumers with (FREE ME) the bleeding-edge technology you've come to know from our (SAVE ME) products with VENOM, our all-cure drug. Trials begin (DON'T LET THEM DESTORY ME) this December!
40 PGS./ONE SHOT/Rated T+ …$4.99
ON SALE 12/4/19


SCREAM: CURSE OF CARNAGE #2
CLAY McCLEOD CHAPMAN (W) • CHRIS MOONEYHAM (A) • COVER BY MARK BAGLEY
VARIANT COVER BY KAEL NGU
VARIANT COVER BY OTTO SCHMIDT
• Spinning directly out of the events of ABSOLUTE CARNAGE and Donny Cates' and Ryan Stegman's VENOM comes the saga of the newest symbiote in New York – SCREAM!
• In Carnage's wake, a darkness has formed in the waters surrounding New York -something evil that beckons the Scream symbiote with a siren song…
32 PGS./Rated T+ …$3.99
ON SALE 12/18/19
SYMBIOTE SPIDER-MAN: ALIEN REALITY #1 (OF 5)
PETER DAVID (W) • GREG LAND (A/C)
YOUNG GUNS VARIANT COVER BY MARCO CHECCHETTO
YOUNG GUNS VARIANT COVER BY RUSSELL DAUTERMAN
YOUNG GUNS VARIANT COVER BY MIKE DEL MUNDO
YOUNG GUNS VARIANT COVER BY JAVIER GARRÓN
YOUNG GUNS VARIANT COVER BY AARON KUDER
YOUNG GUNS VARIANT COVER BY PEPE LARRAZ
8-PART CONNECTING VARIANT COVER H BY ARTHUR ADAMS
VARIANT COVER BY ALEX SAVIUK
BLACK BLANK VARIANT COVER ALSO AVAILABLE
• Peter Parker find himself entrenched in a battle with Hobgoblin!
• Where did HOBGOBLIN get these new powers?
• The original creative team from Symbiote Spider-Man return for the next installment of classic tales from the Alien Costume Saga!
40 PGS./Rated T+ …$4.99
ON SALE 12/11/19
SPIDER-MAN/VENOM: DOUBLE TROUBLE #2 (of 4)
MARIKO TAMAKI (W) • GURIHIRU (A/C)
VARIANT COVER BY PEACH MOMOKO
Venom for the Win!
• After switching bodies with Spider-Man, Venom returns to the world of athletic competition reality shows! Wait, what?
• Can Spidey find a way to swap them back before Venom ruins his reputation?
comes an all-new take on your favorite arch-Frienemies in the MU – and now they've gotta work together to set things right!
32 PGS./Rated T …$3.99
ON SALE 12/4/19


VENOM #21
DONNY CATES (W) • MARK BAGLEY (A/C)
2020 VARIANT COVER BY KHARY RANDOLPH
TEASER VARIANT COVER BY CLAYTON CRAIN
VARIANT COVER BY MARK BAGLEY
VARIANT COVER BY PAOLO RIVERA
VENOM ISLAND BEGINS HERE! 'Nuff said!
32 PGS./Rated T+ …$3.99
ON SALE 12/26/19